Crystals & Healing Stones
---
Amazonite – Heal and open your Heart & Throat Chakras with this beautiful Amazonite stone. This stone has a powerful filtering action, reducing & eliminating stress. At a physical level it blocks geopathic stress. Absorbs microwaves & cell phone emanations. Amazonite aids with calming the nervous system & balances the Masculine & Feminine energies. Eliminates worry or fear.
Amethyst – Aids in the Third Eye Chakra by opening and heightening awareness.  Powerful for cleansing & transmuting energy.  Its calming qualities help to awaken and ease stress in this area.  It helps to also heighten perspective and allows development of strong introspection (inner self view).  Eases Headaches & releases tension.  Treats insomnia & brings restful sleep.  This stone balances out highs & lows, promoting emotional centering.  Amethyst dispels anger, rage, fear and anxiety.  At a subtle level Amethyst balances & connects the physical, mental & emotional bodies.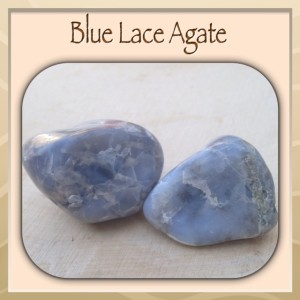 Blue Lace Agate – This stone has a gentle energy that helps to bring balance into the Throat Chakra, allowing free expression.  The soothing & calming energies of this stone help bring peace of mind while linking to one to their highest spiritual truth.  Assists in verbal expression of thoughts & feelings.  Aids in shoulder & neck tension as well as thyroid deficiencies.
Clear Quartz  – is known as the "master healer" and will amplify energy and thought, as well as the effect of other crystals. It absorbs, stores, releases and regulates energy. Clear Quartz draws off negative energy of all kinds, neutralizing background radiation, including electromagnetic smog or petrochemical emanations. It balances and revitalizes the physical, mental, emotional and spiritual planes. Cleanses and enhances the organs and subtle bodies and acts as a deep soul cleanser, connecting the physical dimension with the mind. Clear Quartz enhances psychic abilities. It aids concentration and unlocks memory. Stimulates the immune system and brings the body into balance. Clear Quartz harmonizes all the chakras and aligns the subtle bodies.
Dalmation Jasper – Associated with the Root Chakra Dalmatian jasper is a stone that lessens or removes disillusionment, it will help one see their strengths and weaknesses.  Encourage grounding both with the earth and reality.Helps to purify the blood.  Dalmatian Jasper is a stone of protection from nightmares, depression and negative thinking.  Assists in healing for those who have trouble relaxing.  Increases loyalty and beneficial in long term relationships, it also brings a sense of fun to one's life.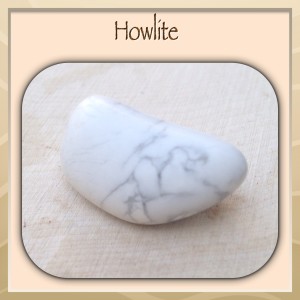 Howlite – Associated with the Throat & Third Eye Chakras.  It is a super-calming stone and many people use it to relieve stress of all kinds.  It makes an excellent antidote to insomnia as it helps to ease an overactive mind & teaches patience.  Placed on the third eye, it opens memories of previous times and lifetimes. Place a howlite stone in your pocket to absorb your own anger – or another's anger that is directed toward you. It helps to overcome critical or selfish behavior.  This stone balances calcium levels & strengthens teeth and bone.  It releases the strings that tie old emotions to present-life triggers.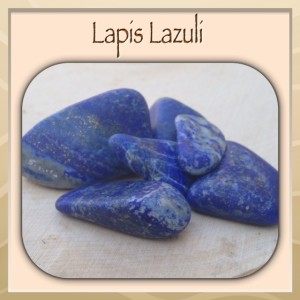 Lapis Lazuli – A great stone for activating & bringing balance to the Throat Chakra as well as opening the Third Eye.  Encourages taking charge of life, while revealing inner truth and encouraging self-awareness.  This stones brings the qualities of honesty & compassion.  Assists in the expression of feelings and emotions, bonding relationships in love & friendship.  Aids in the release of discomfort of migraine headaches.
Leopard Jasper – Leopard Skin Jasper It assists in self-healing and assists in eliminating toxins from the body.  It is associated with spiritual discovery and shaman travel. Helps you connect with your spiritual animal totem.  A grounding stone that clears & brings balance to the Root, Heart, and Crown Chakras.
Petrified Wood – This stone is made of wood that has been replaced with Quartz or Agate.  This stone is often used in meditation relating to past lives.  When in Quartz helps assists in allowing conflict to be viewed and resolved.  Helps to bring focus on the important things in life.
Picture Jasper – A Grounding & Harmonizing stone.  Picture Jasper encourages ecological awareness, bringing stability and balance.  Considered a major gemstone of earth consciousness, of responsibility, caring for and saving our planet.  Stimulates creative visualization.  Promoting self awareness & cleansing this stone helps to bring hidden thoughts and feelings – grief, fears, guilt, envy, love, and hope – to the surface, to be released.  Brings comfort and alleviates fear.  Stimulates the immune system and helps treat disorders of the skin and kidneys.
Red Jasper – An energizing yet grounding stone Red Jasper helps to bring balance to the Root Chakra.  Promotes skillful, practical, down to earth emotional.  Jasper can help to stimulate psychic facilities, dreams, and visionary skills; although it's main focus is always to.  Repair & enhance the physical structures of the body.  Deflects any negative advances from unwanted forces.  Red Jasper is from the heart of Mother Earth and holds deep love.  Red Jasper vibrates as soft gentle pulses of peaceful energy.  Jasper will always provide sufficient practical skills to accomplish goals, particularly of a physical or material nature.
Rose Quartz – Associated with the Heart Chakra.  Rose quartz is the stone of relationships.  It relates to friends, lovers & those areas of our life to which we devote.  Assisting in emotional release and calming, this gentle stone aligns Ones complete energy with that of the frequency of love; balancing the Yin Yang energy and aligning all Chakras.  Placed close to the heart, Rose Quartz assists in the release of stress and trauma while providing loving energy.
Snow Quartz – This soothing & calming stone supports you while learning new lesions.  Snow Quartz is believed to help promote mental clarity.  This stone assists in letting go of limitations.  Mentally Snow Quartz enhances tact & cooperation.  It helps you think before you speak.  Associated with the crown chakra, Snow Quartz links to deep inner wisdom during meditation.  Snow Quartz has the same healing properties as Clear Quartz but with a gentler effect.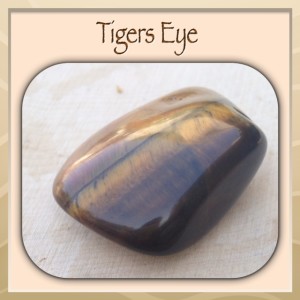 Tigers Eye – Traditionally used as protective & grounding stone. Healing issues of self-worth, self-criticism, and blocked creativity, this stone aids in recognizing ones talents & abilities.   Heals the throat & reproductive organs.
It's combining earth & sun energies lift moods & alleviate depression while assisting one in remaining grounded.
Unakite – Balancing emotions & spirituality this stone is considered a vision stone.  Used as a grounding stone when needed.  Unakite brings a calm gentle energy to any space and can negate the effects of electromagnetic pollution.  A supportive healing stone, Unakite assists with recovery from major illness, treats the reproductive system an aids in healthy pregnancy.